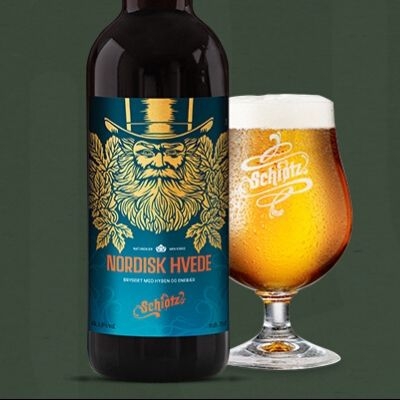 TYPICAL SCHIØTZ: BREWED WITH ROSEHIPS AND JUNIPER
TYPICAL SCHIØTZ: BREWED WITH ROSEHIPS AND JUNIPER
75 cl Schiøtz Nordic wheat is inspired by classic Witbier, but this beer has get a light, nordis Schøitz touch qua a discreet flavoring with rosehips and juniper instead of conriander and orangepeel.
The color is very light golden and very fuzzy. Nordic wheat have a middel foaming and a slightly lively mountfeel with reatively high carbonation.
The tast is mild with clear wheat character and an almost imperceptible malt body, with a combination of classic belgian notes of carnation and banana as well a nordic touch of juniper and rosehip. Very short and crisp aftertast.
You can very well drink nordic wheat to all kind of fish dishes, egg dishes, seafood, chicken, salads and light, mild cheeses.
Schiøtz Nordisk Wheat is the third 75 cl. beer after 2 very populær and successful beers launches last year: Belgian Double and Belgian Blonde Ale. Alle three variants are available in our Schiøtz mix pallet.
In Denmark is 75 cl. Bottle still in continued growth. The size is the perfect pars beer and in the wheat beer category there is a growth in 11%.
The Schøitz serie is a tribute to Theodor Schøitz who in 1859 founded the Albani brewery in OIdense. Schøitz was besides being af wonderfully skilled brewer – also an internaionally renowned botanist – why Schøitz serie brewed vith a touch af bontany and Nordic ingredients that contribute with a simple complexity and exciting taste experience.