NEWS FROM NOHRLUND
- LONG DRINKS
Long Drinks SERVED by Nohrlund is a tribute to the simple. As the name suggests, a long drink should last a long time, which is why we have made an effort to mix and taste every single variant down to the smallest detail.

As bartenders, we are fascinated by the complex recipes as well as the beauty of the simplest drinks. We have therefore mixed a series of delicious, ready-mixed long drinks with a refreshing soda. Long Drinks SERVED by Nohrlund is aimed at those who are looking for easy and tasty premium experiences they can enjoy at home, in the restaurant or to-go, where convenience does not go beyond quality.

The series consists of three varieties, which in their own way are both tasteful and simple. The hallmark of them all is that they blend on selected spirits and the very best organic ingredients. The decorative bottles make them ideal for the home bar or for a party without a bartender.

All the varieties are best enjoyed chilled or poured into a glass of ice - make something extra out of the experience by decorating the drink with garnish.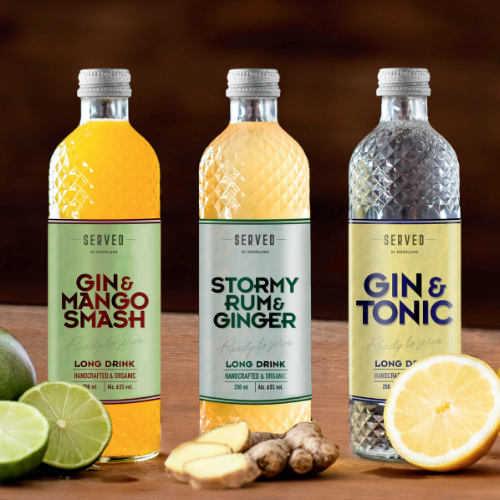 - Stormy Rum & Ginger is a fresh and spicy long drink. The characteristic sharpness of the glue penetrates the mild heat of the ginger, which in combination with the depth of the spicy rum gives a balanced long drink.
- Gin & Tonic. Prominent taste of wild juniper and citrus counteracts the bitterness of the bubbling tonic water. Together, it provides a harmonious long drink.
- Gin & Mango Smash with exotic flavor nuances. In this long drink, ripe mango is combined with sour citrus notes, all the while the characteristic hint of juniper from the gin gives depth.